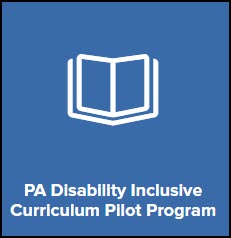 Explore the newly developed PA Disability Inclusive Curriculum Pilot Toolkit!
The Disability Inclusive Curriculum Pilot Program, as added to the Pennsylvania Public School Code in the Summer of 2022, is intended to instruct all K-12 students on the political, economic, and social contributions of individuals with disabilities. It also aims to increase the accurate and regular representation of disability throughout all aspects of school to help learners understand that disability is a natural part of the human condition.
Considerations for implementing a disability inclusive curriculum may include the following:
- Form a committee or advisory group (with disability representation) to support planning and implementation.
- Provide opportunities to speak regularly with regard to disability through the use of lesson plans, books, posters and calendars.
- Intentionally infuse and embed information from the "disability lens" across schoolwide environments, spaces, and programs.
- Continually assess current practices and the effectiveness of implementation activities.
- Develop plans to sustain practices to include mentor sites, a dedicated space for updates and sharing lesson plans.
- Develop tools to solicit feedback from students, teachers, and other vested parties.
The resources in the Toolkit will assist in identifying information/materials/resources aligned to the four domains (Instructional, Environmental, Student Body Representation, Communication Pathways) outlined in the grant application. These resources may be helpful to support the implementation of your action plan.
Resources are categorized into four domains:
- Instructional Domain - resources that are educational and are intended to use for teaching
- Environmental Domain - resources that relate to or arise from a person's surroundings
- Student Body Representation - resources that relate to entire student body as a whole
- Communication Pathways - resources that promote communications across all school-wide messaging whether direct or indirect
Access the Disability Inclusive Curriculum Pilot Program.